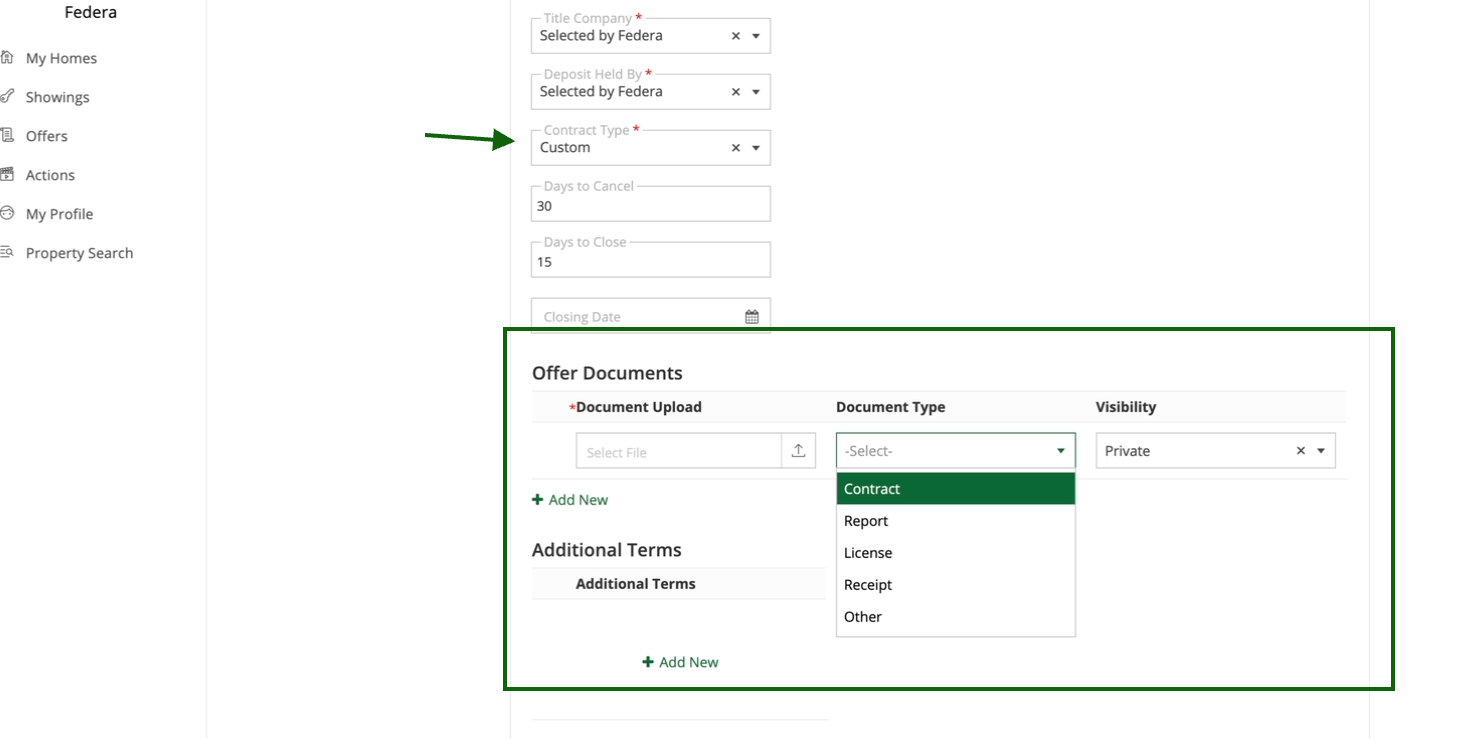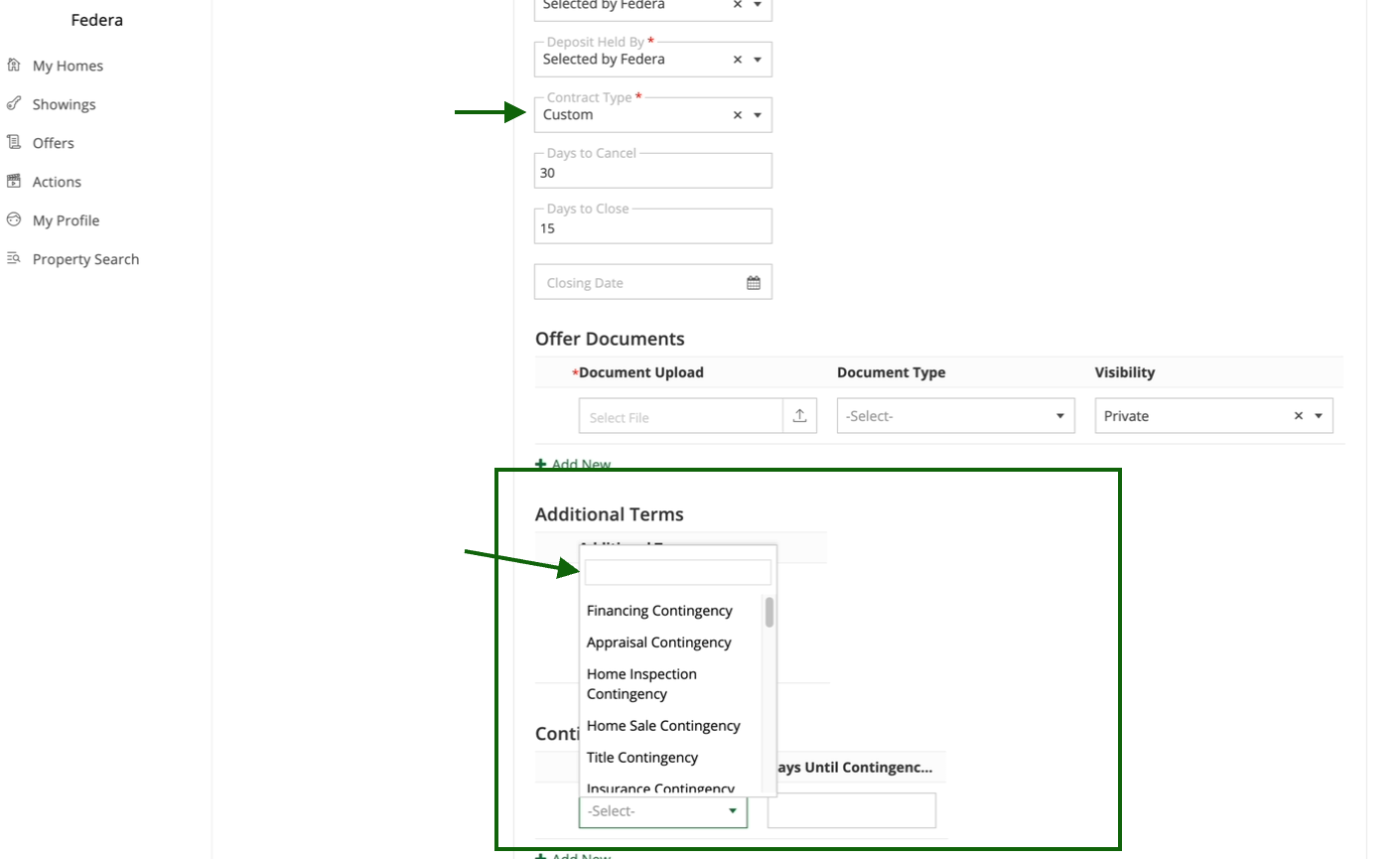 Days to Cancel - Propose a new timeframe for the buyer to cancel the offer.

Days to Close - Set your preferred timeline for closing the deal.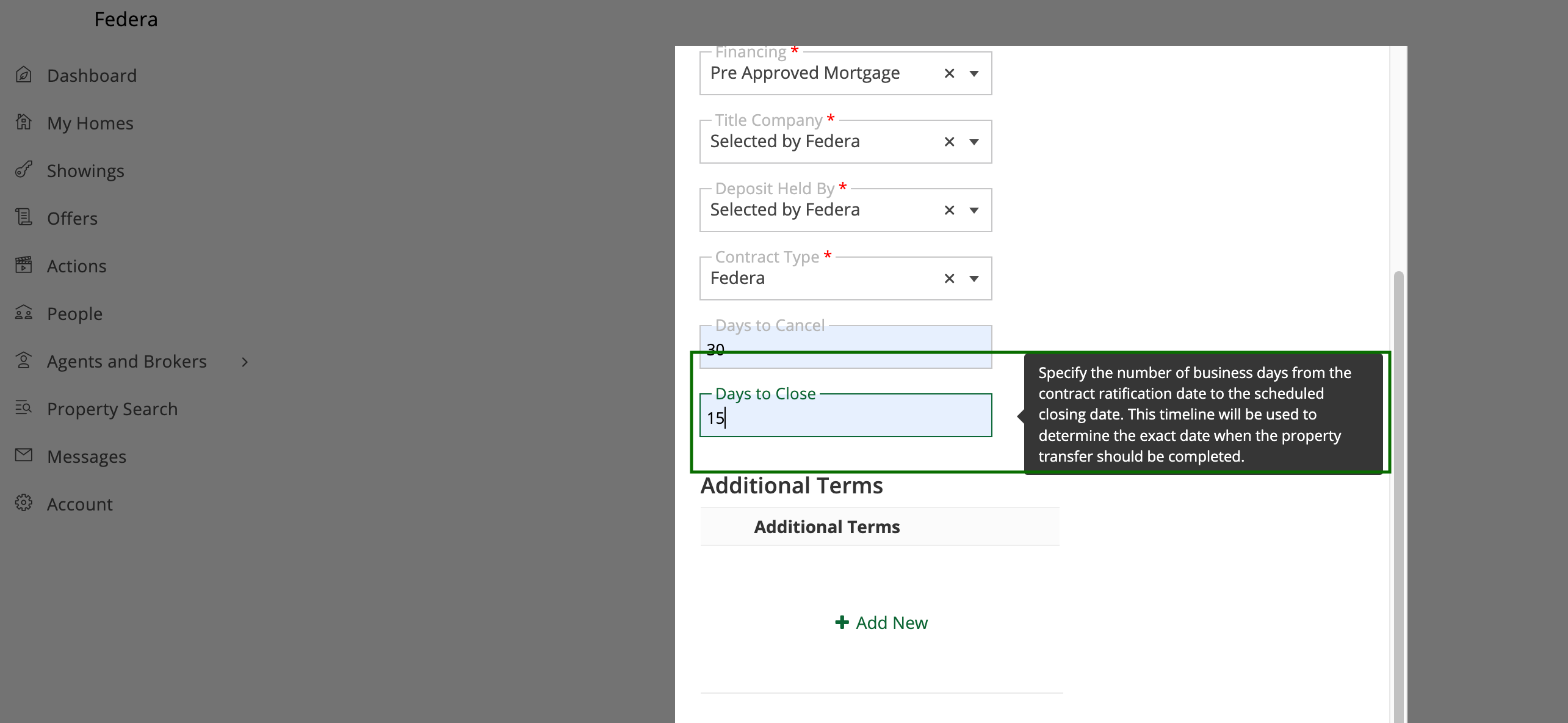 Additional Terms - You can include any additional conditions for the sale here.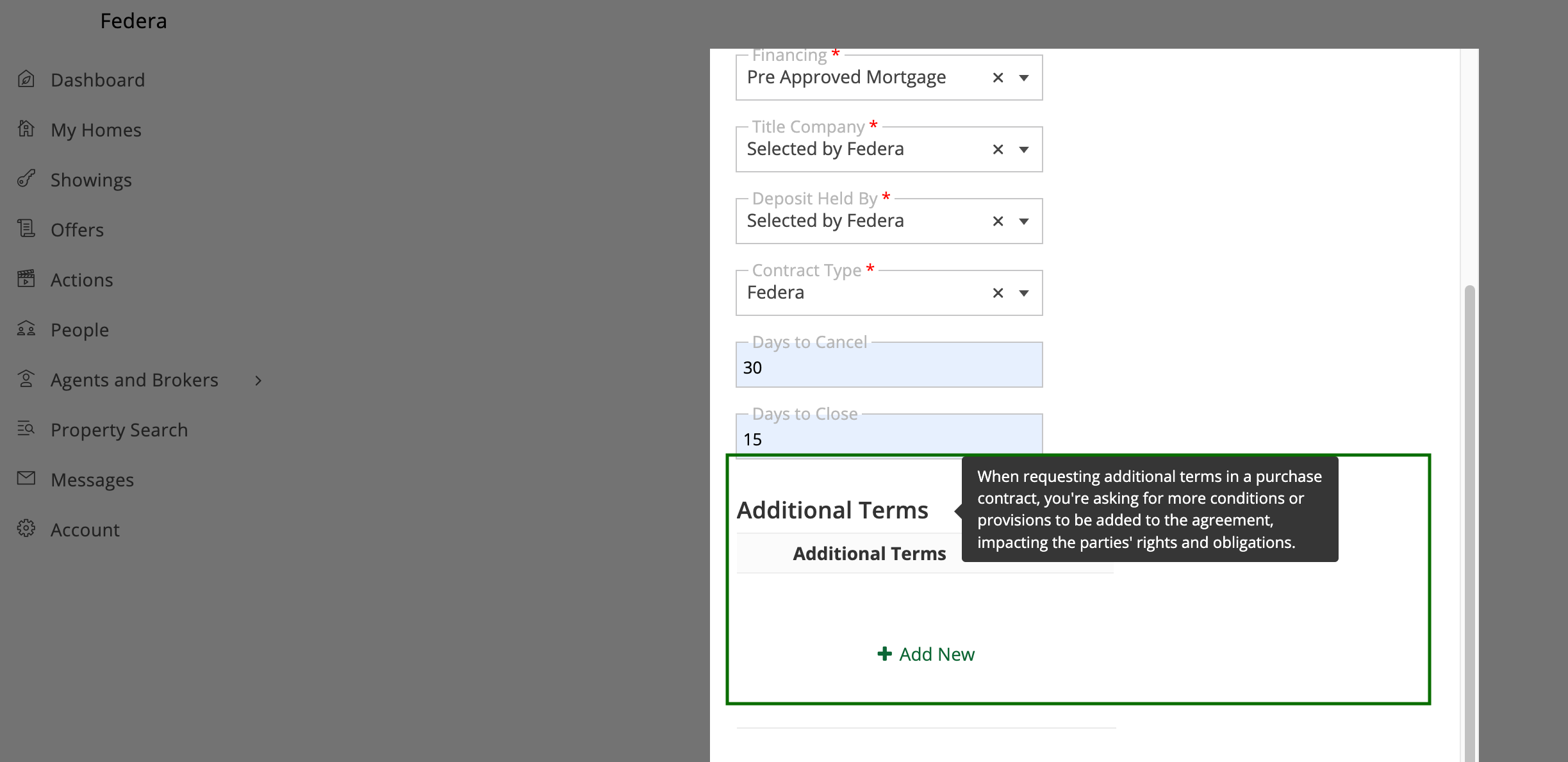 If you're the listing agent/broker click the

"Update"

button to save the counter-offer. Then the owner(s) will be prompted to go in and add their signature.

If you're the owner making the counteroffer, simply add your signature in the "Owners Signature" section and click the "Update" button.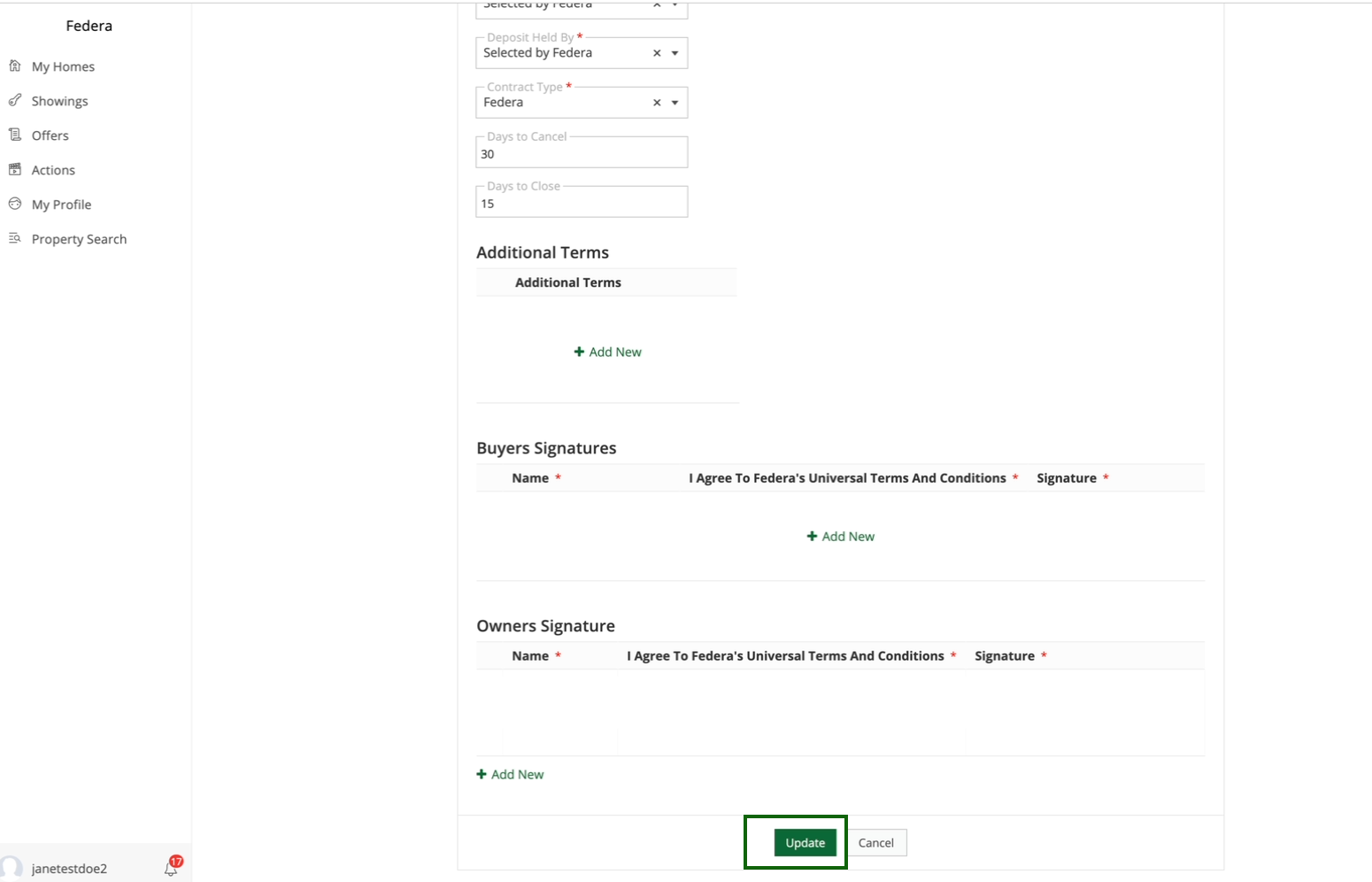 Finally, once you're satisfied with your counteroffer, click "Submit Updated Offer". The counterparty will then be notified of your counteroffer. On mobile, click the dropdown under the blueprint stage to view the button.


Accept Offer
When you accept an offer, the status will change to "Accepted" and all parties will be notified. Once the compliance review is completed by Federa, the offer becomes "Under Contract" and other offers will be voided.


Decline Offer
If you choose to decline an offer, the offer status will change to "Rejected". Parties will be notified accordingly and the system will allow for the offer to be Modified and Resubmitted.


Amend Offer

If you wish to amend an offer, the system will treat it similarly to a counteroffer, making the current offer void until both parties agree to the new amended offer. In the event the amended offer is not accepted, the current offer will continue. An amendment is only possible through a "Federa Contract".


Void Offer

If you wish to void an offer, you can do so and the current offer status will change to "Void". All parties will be notified.


Offer Accepted

Once the offer is accepted, Federa performs a Compliance Review which includes verifying the Earnest Money Deposit in Escrow, inviting the Mortgage Company, and inviting the Title company if applicable. After the Compliance Review is completed, the listing will go "Under Contract".


Clear to Close

Once under contract, Federa will perform a Clear to Close review. This involves checking if the title is clear to close and if the financing is clear to close if applicable. The buyer will need to order an inspection and appraisal if necessary. This process varies as every transaction is unique.


Closed

Once the "Clear to Close" review is completed, Federa will update the transaction to "Closed". The property is now officially sold!