How to Make an Offer on Federa
Overview

Federa offers is a streamlined process for creating and submitting real estate offers. This detailed guide will walk you through the entire process, from signing up to managing your offer.
Step by Step Guide

Sign Up or Sign In to Federa

Sign Up or Sign In
. If you have an account, proceed with signing in. If you're new to Federa, Sign Up.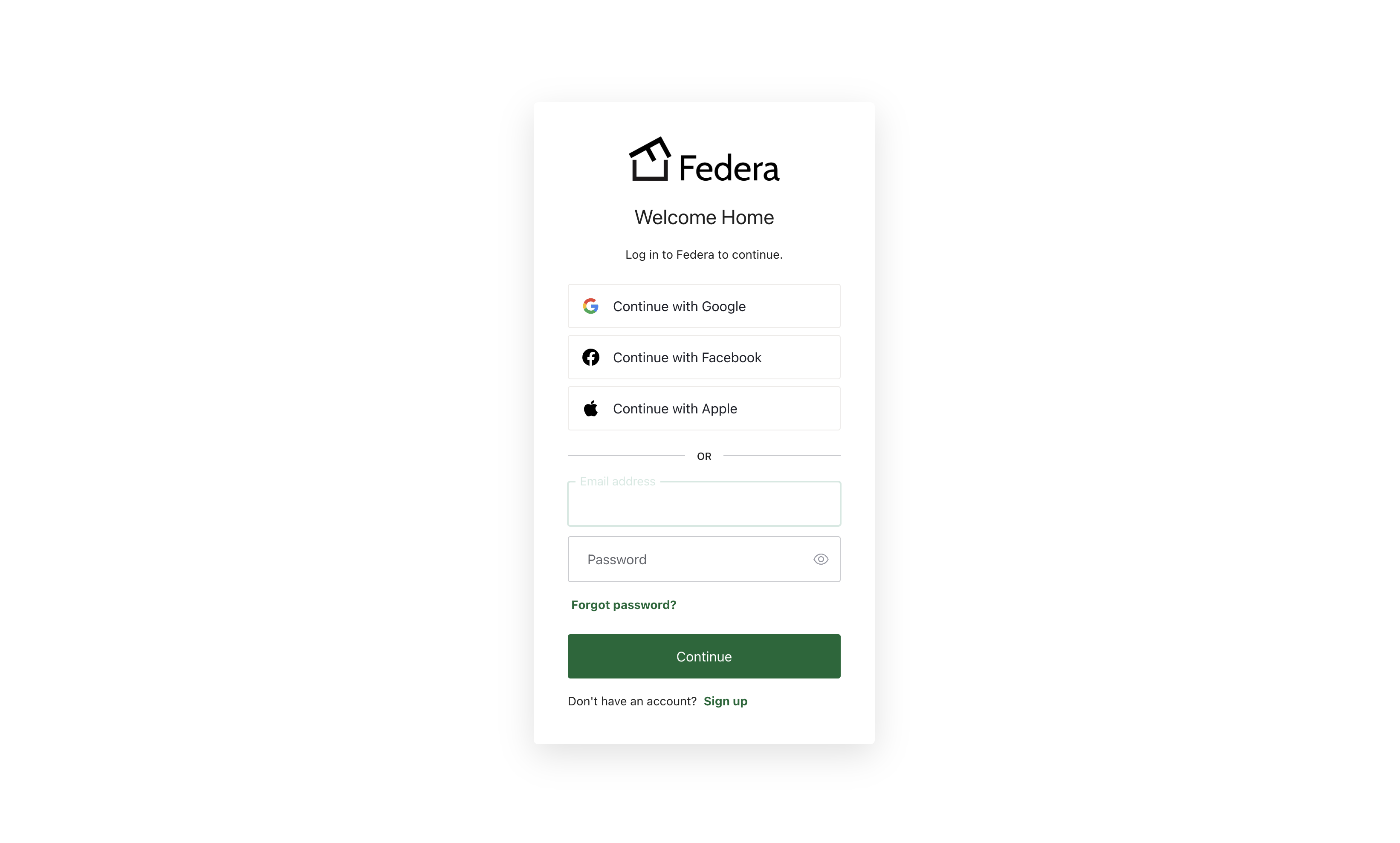 Create a buying transaction

For existing users, click the "
New Transaction
" button found on your
Dashboard
or
My Homes
page.
What are we doing today?

Select "Buying"

Choose the option "Ready to make an offer

"




Select the state

Choose the state where the property you're interested in is located.

Choose service level

Pick the level of service that best suits your needs: "DIY, LIVE, or Full Service". Learn more about the service levels.
For Non-Federa agents making an offer, select "Full Service"

Add the buyer(s)

Pick "Personal" for individual purchasers or "Entity" for businesses/organizations.

How will you finance this purchase?

Select between:

Cash
Pre-Approved Mortgage
I need a lender

Add People

Modify or add a profile, such as a buyer's agent, then click "Continue"


Create Offer
Property Address: Select the property address you want to make an offer on.

Offer Amount: Input your offer.

Deposit:

Enter the deposit amount, also known as the EMD.

Financing: Confirm your financing choice.

Title Company: Select a title company. If unsure, pick "Selected by Federa"

Deposit Held By: Select the entity that the deposit will be held by. If unsure, pick "Selected by Federa"

Contract Type: Choose between the simplified Federa contract or a custom contract.

Custom Contract: Add a state-specific contract or contingencies for the seller to fill out.

Days to cancel & Days to close

: Specify these durations.

Additional Terms: Add specific conditions if needed.

Buyer's Signatures:


If you're the buyer making the offer, sign and click "Continue"

If you're the buyer's agent, click "Continue" to send to your client for signatures.
Submit your offer

Once the signers have signed, anyone in the buying transaction with Approver and Signer permissions can submit the offer by clicking "Submit Offer"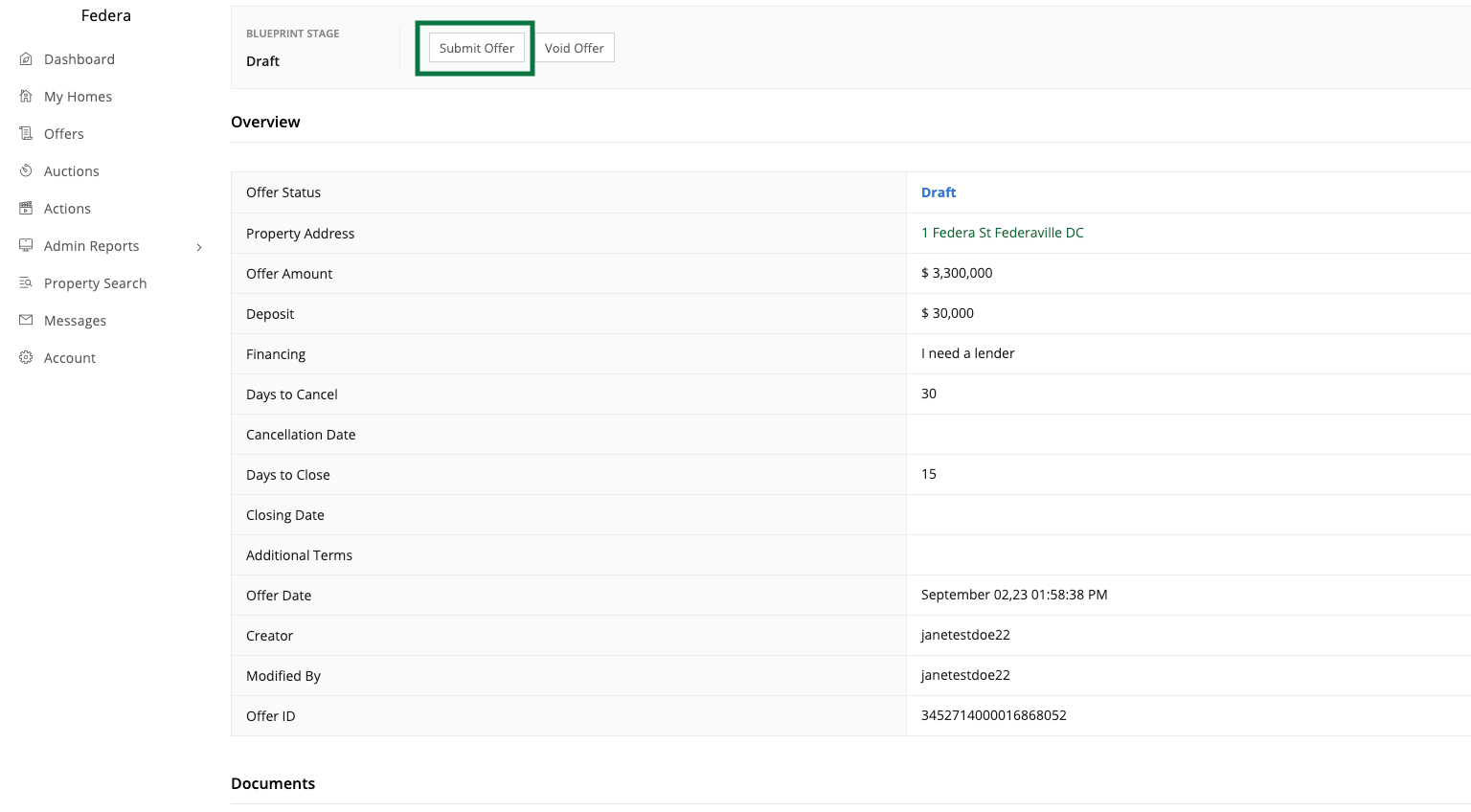 Offer In Review

Federa performs a compliance review, to make sure all the details are completed. When the review is successful, the offer will become Open. You will have the ability to void or amend if needed.
Managing an Offer

Access and manage your offers by going to the Offers tab and selecting the offer you want to manage.
Once the counterparty receives an offer, they will have the option to "Accept, Counter, Decline, or Void" the offer.
---
FAQs

When does the seller receive the contract?
Post compliance review.
How do I know my offer was sent to the counterparty?
Once an Offer status is "Open" this can be accessed and managed on the Offers page.
How does the cash back language get added to the buy/sell agreement?
Once the service level has been selected, it automatically populates the corresponding terms to the Federa buy/sell agreement. For example, if the service level is DIY, the terms added will reference the 2% cashback. When LIVE the terms will reference 1% cashback.
Can the 3% buyers agent commission be modified from the Federa Buy/Sell Agreement?
No. A Federa Buy/Sell Agreement cannot have the commission modified. If someone wants a custom amount they will need to do a Full-Service Offer and can use a custom contract.
Can SmartBuy Live or DIY be conducted with a custom contract?
No. To be able to provide the cashback we offer, its required to use a Federa Buy/Sell agreement.
Are Offers available on mobile?
Yes!

---
We believe in transparency and aim to provide the best possible experience to our users. If you have any further questions, please don't hesitate to contact our support team at
support@federa.com
or by submitting a ticket here.
Related Articles

Using Bulk Offers on Federa

How to use Bulk Offers on Federa The world of real estate investing can be a competitive landscape. Being able to make multiple offers simultaneously can give you the edge over other buyers. That's where Federa's Bulk Offers feature comes in. The ...

Managing a Federa Offer

How to manage your Federa Offer Mastering how to manage your offers on Federa has never been more straightforward! In this step-by-step guide, we take you through the journey of managing a new property offer - from receiving your first offer to ...

How can I contact the buyer's agent?

Buyer's agent contact information can be found at the bottom of the offer on the Federa dashboard. Note that an agent is not always assigned to a Federa DIY transaction. If the contact information for a buyer's agent is not visible, you may choose to ...

Where is the buyers name?

The buyers name can be found in the first sentence of the Federa Buy/Sell Agreement. The buyers name can also be seen on the Federa dashboard under your Offers page.

Whats a Federa Pre-Qualification letter?

At Federa, we are committed to creating a platform that provides a reliable source of information for both buyers and sellers. We understand that buying or selling a home is a significant life decision, and we want to make sure that all parties ...